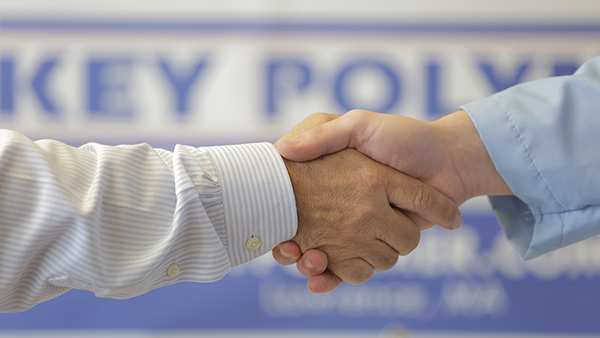 50 Years of Experience as a Toll Manufacturing Partner
KeyToll, a business of Key Polymer, is your partner in lean external manufacturing. KeyToll was built on a foundation of responsiveness and versatile manufacturing. We specialize in toll manufacturing that is customized to each customer's unique needs. Download our brochure for a quick guide to versatile capabilities.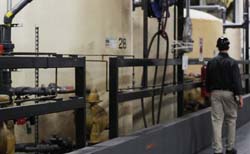 Meet KeyToll
KeyToll manufacturing is executed in a modern, fully equipped ISO 9001 registered facility. We provide full toll capability for the liquid and paste materials that are used in a variety of technologies.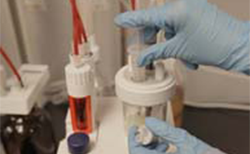 Support Services
You can always expect one-on-one contact with the exact KeyToll expert you need. Our laboratories are equipped with the instruments and staff to meet a variety of testing needs. KeyToll engineers are ready to provide you with any direct technical support required for your process.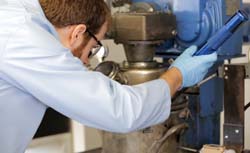 KeyToll Capabilities
Our world class facility uses processes built on 50 years of manufacturing experience. We routinely ship and receive raw materials and finished goods in variety of packaging styles. Our team of experts will deliver the exact process and product you need.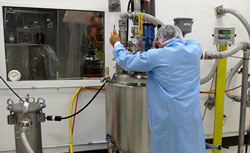 Clean Room
Toll production is available in a certified clean room, with options for custom processing equipment.
Clean Room
What Is Toll Manufacturing?
Outsourcing continues to grow in popularity. In the chemical industry this is usually referred to as tolling, toll manufacturing or external manufacturing.
The concept is to use one firm's capacity, capability or favorable location to process the goods of another company. Implementation of a toll manufacturing strategy allows both companies to focus on and contribute their core strengths.
Why Choose Toll Manufacturing?
Toll manufacturing is extremely flexible. It can be arranged for short-, medium-, or long-term product manufacture. Each agreement is unique and designed to create the most efficient process for the partner companies.
Often times, companies choose to toll projects that require:
– Specialized processing equipment
– Advanced quality testing instrumentation
– High attention to unique regulatory requirements
– Large storage quantities of raw materials or finished
good inventory
– A new location for expedited turnaround time of material
or to service new geographical markets
Toll manufacturing can be a highly efficient and cost-effective method of production
Toll manufacturing combines the best of local manufacturing and effective cost management. When implemented carefully, with a trusted manufacturing partner, toll manufacturing can be a highly efficient and cost-effective method of production.
Partner with KeyToll to Grow your Business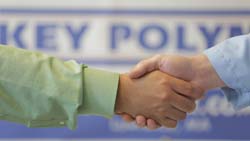 For more information about Key Polymer's toll manufacturing capabilities, please follow the link below and meet KeyToll, your dedicated external manufacturing team.
Toll Manufacturing Podcasts
Toll Manufacturing, Contract Manufacturing, and Toll Processing
Toll manufacturing, sometimes called toll processing, is the most common name for manufacturing outsourcing in the Chemical Industry. A company contacts a toll manufacturer to produce a finished good or a raw material product. Often, the hiring company provides the raw materials or semi-finished goods and the toll processor performs the rest of the manufacturing. Toll manufacturing can include formulation, blending, packaging, break bulk or any combination of processes. Often third-party processors have storage capabilities with special conditions (such as warm or cold) for different material types.
Toll manufacturers such as Key Polymer already have the specialized equipment, organizational practices, regulatory approvals and staff resources for fast scale-up.
Other industries use the name "contract manufacturing" to describe this same service. The goal of toll manufacturing is to shorten start-up time and reduce chemical production costs for the hiring company by providing the specialized equipment and expertise that they would not otherwise possess, or that they might possess but in a distant location. Toll processing often saves indirect as well as direct costs for the customer, while also making their product more readily available, often in greater quantity. Another strategy is to utilize a toll manufacturer as or it can be an active part of an active second source supply strategy.
Toll Manufacturing Confidentiality Agreement
A toll manufacturing agreement begins with a Confidentiality Agreement, usually called an "NDA" (Non-Disclosure Agreement). This is to ensure peace of mind with between the parties, so they can share their ideas and product requirements without fear of information reaching their customers or competitors. Key Polymer's NDA agreement in the form of a PDF document is provided on Key Polymer's website to facilitate this process — NDA for Print/Fax — or you can fill out the online DocuSign Confidentiality Agreement. Once the agreement is in place the parties can openly discuss chemical product design and production requirements to confirm that the correct specialized equipment for the toll manufacturing need is in place or practically attainable.
At Key Polymer, senior technical staff and management thoughtfully review capabilities to assure that the requested chemical manufacturing and packaging required will be an efficient and effective fit in our facilities. Key staff will work with each customer to determine a toll manufacturing strategy that defines the most efficient processes to be used, and the ownership of the raw materials, and terms of payment. Both Key and the customer will work together to assure that all steps in the regulatory compliance process are correctly assigned. Once a toll manufacturing agreement is reached, we'll follow it to make sure your desired product is produced to your specifications.
Toll Manufacturing Agreement and Accounting
The final toll manufacturing agreement often includes a detailed license for the toller to use the customer's technology, intellectual property, or processes in manufacturing the desired chemical product, limited to meeting the requirements of the toll production customer. This and other legal complexities are often part of detailed agreements. Often, however, the toll agreement is a simply a detailed Blanket Purchase Order.
In toll manufacturing, it is customary for the customer to purchase or provide the raw materials involved in processing the desired chemical products. However, in some cases this may not be the most efficient pathway. In those cases, Key Polymer will purchase the chemical for the customer and transfer ownership to the customer at cost plus a small management/capital cost add on.
Good communication between the parties is key to an efficient and profitable toll manufacturing agreement. In that vein, toll manufacturers have an accounting obligation to report aspects of the chemical processing to their customers. Inventory reports are coordinated with the customer's closing dates or on specific deadlines agreed upon by the customer and the toll manufacturer. For example, the details of each batch produced and regular reports of the physical inventory are important parts of fulfilling Key's agreement with its toll customers. Key makes these and other requested reports available to its toll customers in real time through a password-protected Web Portal.
How To Start A Toll Manufacturing Partnership
To start a toll manufacturing partnership, get in touch with your potential toll manufacturer, and either give them a rough overview of your needs (so they can determine if your project could potentially be a fit for their capabilities), or go ahead and sign an NDA so that you can be forthcoming with the details of your project right away. The faster you are able to give the toll manufacturer the details of your project, the sooner it can be determined if your partnership will work.
Supply the toll manufacturer with all of the details of your project. This might include a chemical formulation, as well as details regarding production schedule, amounts, storage, and transportation requirements. The toll manufacturer can then determine if they are capable of fulfilling your requirements, and production can begin. At Key Polymer, we can go from initial conversation to production and delivery very quickly in most cases.