Tough-Seal Evaluation Kit
Contact us for a Tough-Seal Evaluation Kit today!

In side-by-side testing, specifying engineers choose Tough-Seal over their existing potting compound. Tough-Seal Potting Compound is bulldog tough ~ Bred to grip and protect under the most aggressive conditions. Order your Tough-Seal Evaluation Kit today! Your Evaluation Kit will include everything you need to perform your own high quality product evaluation for your application.
Not sure what kit you need? Multi-product kits are available!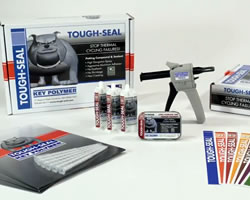 $49

What's Included:
3 x 50 mL Cartridges of Tough-Seal (Approx Coverage: 9 cubic inches)
1 x 50 mL Manual Cartridge Dispenser
6 x Static Mixers
1 x Cured Tough-Seal Sample
Eliminate Hand Mixing with Easy-To-Use Cartridges!
Tough-Seal is Available in 50 & 400 mL Cartridges!
Benefits of cartridges over hand-mixing:

Ensure correct 2:1 mix ratio every time
Eliminate air bubble entrapment in your potted part
Improved mixing
Precision dispensing from static mixer
Reduce waste generated by hand mixing
Tough-Seal is available in two cartridge volumes:

Both manual and pneumatic cartridge dispensers are available in two volumes:

Hand-held cartridge dispensers are perfect for applications requiring mobility.
Stand mounted, foot-pedal operated cartridge dispensers are available for hand-free applications, that require the operator to hold and move the part being potted.

Tough-Seal Is Also Available In Bulk
Tough-Seal is also available in bulk 1 gallon buckets, 5 gallon pails and 55 gallon drums. Information regarding Bulk Meter Mix and Dispenser (MMD) equipment is available for applications requiring larger volumes.